XtraSeal brushes are ideal for heavy-duty sealing applications where an impervious, yet flexible, shield is required.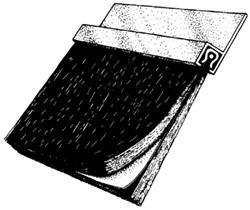 Air Flow with SEALEZE® XtraSeal Brush
Learn how SEALEZE
®
XtraSeal brush provides the best seal for reducing air flow.
Sandwiched between layers of filament, a solid sheet of thin, flexible material (membrane) provides a barrier to debris and sprays. This is ideal for tough applications where debris or jets of fluid need to be contained.
XtraSeal brushes can be provided with membrane lengths to your specification. Typically, the membrane is 0.250 inches shorter than the brush filaments to maintain the sweep effect of the brush.
XtraSeal brushes are available in B, C, D, F and G sizes, with galvanized steel and stainless steel (T-304 and T-316L) channel materials. Filament materials include nylon and polypropylene (level and crimped) in a full range of diameters. Barrier materials include: EPDM , polyethylene, polypropylene, and others.
Custom OAT and barrier trim lengths are available.
XtraSeal brushes are available with SEALEZE® Brush Holders.
Download test report: Airflow with XtraSeal Brush
Download a PDF worksheet for XtraSeal Brushes
Go to the on-line worksheet for XtraSeal brushes
To email us your application information, click here, or call 1-800-787-7325.