Natural Fiber Brush Filament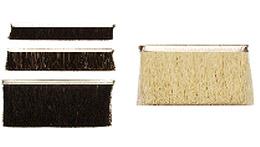 SEALEZE® manufactures brushes using tampico, pig hair and horsehair filament for applications where synthetic filaments are not suited.
Tampico is a plant fiber obtained from the Agave plant that grows in Mexico.Of a medium-soft texture, resistant to heat and chemicals, and highly water absorbent, tampico is most often used for light scrubbing, washing and light-abrasive applications.
Horsehair is relatively soft to moderately stiff, depending on bristle length and grade. Horsehair is used dry for polishing or scratch-free cleaning on delicate surfaces.
Pig hair, often used for cleaning or spreading viscous fluids, is a stiff, resilient, non-conductive fiber.
SEALEZE® manufactures a wide variety of brush sizes with natural filaments. A SEALEZE® Sales Representative can help you determine the right brush for your application. Contact a SEALEZE® Sales Representative for more information.
Static Dissipative Brush Filament
SEALEZE® can produce brushes with soft plymer filaments that conduct and dissipate static electric charge. For more information on these types of products, see our Static Electricity Dissipation page.
Elevated Temperature Brush Filament

Brushes are often required to perform in applications where temperatures can reach several hundred degrees. Temperature range and brush characteristics such as stiffness, abrasiveness and filament length must be considered in selecting the correct filament for the application. SEALEZE® offers several different brush materials, both synthetic and metal (click here for metal filament brushes), for high temperature environments.
Our synthetic brushes for elevated temperature applications have excellent abrasive resistance, flex life, bend recovery and solvent resistance and are designed for sustained working temperatures up to 300 degrees F. These brushes are immediately available from stock, are assembled with straight or angled clear anodized aluminum holders and come in 8 ft. or 10 ft. lengths.
If our stock brushes don't meet your needs, we can manufacture these brushes with custom trims, materials and densities. Contact a SEALEZE® Sales Representative for more information.

Email us your application information, or call 1-800-787-7325.