SEALEZE® stock nylon filament for metal-backed strip brush provides cost-effective, long-lasting solutions to a variety of industrial problems. Made with high-quality nylon 6 filament, our strip brushes have excellent abrasion resistance, flex life, bend recovery and springiness (often called "flicking"). These brushes have good stiffness, are resistant to set and are best used in working temperature below 230 degrees F.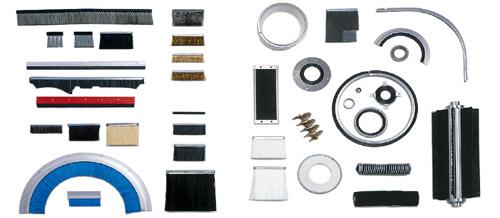 For customized options, visit our custom brush section for more information.
Straight strip brush with nylon filament is available immediately from our large stock, in 8 ft. or 10 ft. lengths with nylon 6 filament, galvanized steel channels and a variety of filament trim lengths and diameters. Custom trim lengths, filament diameters and filament materials (metal and natural), as well as other channel materials, are available with quick turnaround. Download the SEALEZE® Straight Strip Stock Nylon Brush and Holder Reference Guide in PDF format.
If our stock straight strip brushes don't meet your needs, we can manufacture nylon brush with custom trims, materials and densities. See custom brush for details or contact a SEALEZE® Sales Representative.
More styles to meet your needs
Sometimes, stock nylon strip brush isn't the best choice for your application. SEALEZE® also offers flexible strip brush and staple set (or punch brush) options.
| | |
| --- | --- |
| | Ez-Flex Flexible Strip Brush is an ideal alternative to metal back brush for applications requiring fitting around curves and in-field installation. Available in nylon or polypropylene, flexible brush is an alternative for use in corrosive and other environments where metal is undesirable. Download the Ez-Flex worksheet. |
| | Staple Set Brush is best in many cleaning, washing, transporting and sealing applications. Staple set brushes are custom manufactured and we offer a variety of substrates to choose from. SEALEZE® manufactures staple set brushes to meet your application needs or we can design brush to your specifications. |

Contact a SEALEZE® Sales Representative for more information.
Email SEALEZE® your application information, or call 1-800-787-7325

Section
Product
Code
X
Y
OAT
Exposed Length
Stock Filament
Other Filament Diameters
Link
A
SFA102BL
0.095
0.110
0.37
0.22
0.006
0.004 to 0.010
Stock Aluminum Holders for Section A Size Brush
SFA104BL
0.095
0.110
0.56
0.41
0.006
0.004 to 0.010
SFA108BL
0.095
0.110
0.90
0.75
0.006
0.004 to 0.010
SFA110BL
0.095
0.110
1.15
1.00
0.006
0.004 to 0.010
B
SFB105BL
0.150
0.152
0.75
0.54
0.006
0.004 to 0.012
Stock Aluminum Holders for Section B Size Brush
SFB110BL
0.150
0.152
1.22
1.01
0.006
0.004 to 0.012
C
SFC106BL
0.180
0.199
0.87
0.62
0.006
0.004 to 0.016
Stock Aluminum Holders for Section C Size Brush
SFC110BL
0.180
0.199
1.28
1.03
0.006
0.004 to 0.016
D
SFD109BL
0.240
0.256
1.25
0.93
0.008
0.006 to 0.020
Stock Aluminum Holders for Section D Size Brush
SFD112BL
0.240
0.256
1.50
1.18
0.008
0.006 to 0.020
SFD116BL
0.240
0.256
1.92
1.60
0.012
0.008 to 0.020
SFD120BL
0.240
0.256
2.31
1.99
0.012
0.008 to 0.020
SFD130BL
0.240
0.256
3.31
2.99
0.012
0.008 to 0.020
F
SFF115BL
0.313
0.313
1.880
1.500
0.016
0.008 to 0.060
Stock Aluminum Holders for Section F Size Brush
SFF120BL
0.313
0.313
2.380
2.000
0.016
0.008 to 0.060
SFF125BL
0.313
0.313
2.880
2.500
0.016
0.008 to 0.060
SFF130BL
0.313
0.313
3.380
3.000
0.020
0.008 to 0.060
SFF140BL
0.313
0.313
4.380
4.000
0.020
0.012 to 0.020
SFF150BL
0.313
0.313
5.380
5.000
0.020
0.012 to 0.020
G
SFG118BL
0.350
0.370
2.25
1.82
0.012
0.008 to 0.060
Stock Aluminum Holders for Section G Size Brush
SFG118BL
0.350
0.370
2.25
1.82
0.035
0.008 to 0.060
SFG125BL
0.350
0.370
3.00
2.57
0.012
0.008 to 0.060
SFG125BL
0.350
0.370
3.00
2.57
0.035
0.008 to 0.060
SFG130BL
0.350
0.370
3.50
3.07
0.020
0.012 to 0.060
SFG130BL
0.350
0.370
3.50
3.07
0.035
0.012 to 0.060
SFG140BL
0.350
0.370
4.50
4.07
0.020
0.012 to 0.060
SFG140BL
0.350
0.370
4.50
4.07
0.035
0.012 to 0.060
SFG150BL
0.350
0.370
5.50
5.07
0.020
0.020 to 0.060
SFG150BL
0.350
0.370
5.50
5.07
0.035
0.020 to 0.060
SFG160BL
0.350
0.370
6.50
6.07
0.035
0.020 to 0.060
SFG170BL
0.350
0.370
7.50
7.07
0.035
0.020 to 0.060
G Brush available with OATs up to 24 inches and diameters from .008-.05
K
SFK130BL
0.500
0.500
3.58
3.00
0.045
0.010 to 0.060
Stock Aluminum Holders for Section K Size Brush
SFK140BL
0.500
0.500
4.58
4.00
0.045
0.010 to 0.060
SFK150BL
0.500
0.500
5.58
5.00
0.045
0.010 to 0.060
SFK160BL
0.500
0.500
6.58
6.00
0.060
0.010 to 0.060
SFK170BL
0.500
0.500
7.58
7.00
0.060
0.010 to 0.060
SFK1100BL
0.500
0.500
10.58
10.00
0.060
0.010 to 0.060
SFK1120BL
0.500
0.500
12.58
12.00
0.060
0.010 to 0.060