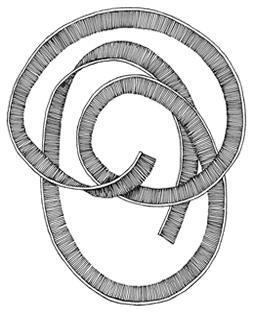 Ez-Flex flexible strip brush brings another dimension to your design options. The flexibility of our Ez-Flex strip brush allows it to conform to contours and shapes that typical metal-backed brush cannot address. Constructed entirely without metal parts, these brushes use high-quality nylon or polypropylene filament. Ez-Flex strip brush is effective in temperatures as low as -70° F.
Ez-Flex strip brush comes in virtually any length, with nylon or polypropylene filament, nylon or polypropylene channels and a variety of filament trim lengths and diameters. It can be used with or without our traditional aluminum holders. To download the SEALEZE® Ez-Flex strip brush Worksheet in PDF format, click here for English and here for metric.
SEALEZE® Ez-Flex provides engineers and designers with a flexible way to eliminate problems. Need a continuous length of brush to fit around curves? Ez-Flex bends. Need to use brush in a corrosive environment? SEALEZE® Ez-Flex strip brush is metal-free so it won't corrode the way some metal can. Need a product that's light-weight and easy to install? Wire snips or heavy duty scissors can be used to cut this flexible brush. The lack of metal means that it weighs less, is corrosion proof and provides a wide range of design alternatives.
While Ez-Flex is designed to fit in our stock holders, it's also available with a molded integrated holder. This eliminates the need for a separate holder for applications where a traditional holder is unnecessary or inappropriate. Designers who capitalize on the flexibility Ez-Flex brings to design projects can explore possibilities not feasible with typical strip brush products.
SEALEZE® Ez-Flex strip brush is an excellent choice for:
• use in corrosive environments
• environmentally conscious installations
• meeting FDA approved standards

Due to the nature of extruded plastic materials, please note the dimensional tolerances and take these into consideration when incorporating these products into your design.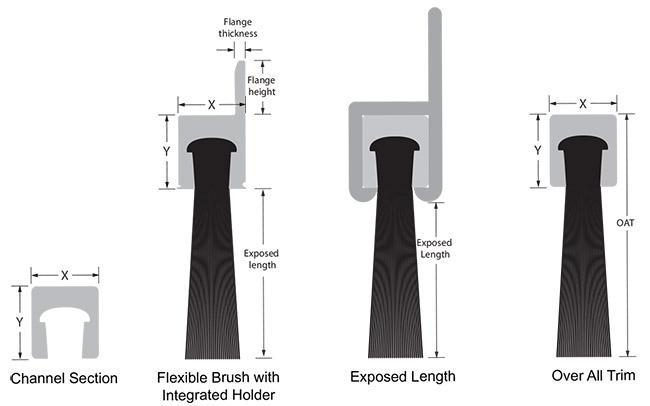 SEALEZE® Standard Flexible Strip Brush

Section
Product Code
Nylon
Standard
Filament
Diameter
Dimensions
See Note*
OAT
±0.015

Standard Continuous
Length (feet)

X
Y
C
FXC106BL
0.006
0.180
0.200
0.87
100
C
FXC110BL
0.006
0.180
0.200
1.28
100
C
FXC215BP
0.012
0.180
0.200
1.75
150
C
FXC220BP
0.012
0.180
0.200
2.31
150
C
FXC230BP
0.012
0.180
0.200
3.31
150
D
FXD109BL
0.008
0.230
0.245
1.25
100
D
FXD112BL
0.008
0.230
0.245
1.50
100
D
FXD116BL
0.012
0.230
0.245
1.92
100
D
FXD120BL
0.012
0.230
0.245
2.31
100
D
FXD130BL
0.012
0.230
0.245
3.31
100
* Tolerence for C & D sections, ± 0.02 inches.
Metric version available, click here.
Ez-Flez strip brush will fit in SEALEZE® aluminum holders. Visit the aluminum holders page for more information.
SEALEZE® Standard Flexible Strip Brush with Integrated Holder †

Section
Product Code
Nylon
Standard
Filament
Diameter
Dimensions
See
Note*
Flange
Thickness
±0.02
Flange
Height
±0.05
Exposed†
±0.015

Standard
Continuous
Length
(feet)

X
Y
C
FXC80 - IH10BL
0.006
0.18
0.19
0.06
0.50
1.03
12
D
FXD80 - IH09BL
0.008
0.22
0.25
0.06
0.55
0.93
10
D
FXD80 - IH16BL
0.012
0.22
0.25
0.06
0.55
1.60
10
D
FXD80 - IH30BL
0.012
0.22
0.25
0.06
0.55
2.99
10