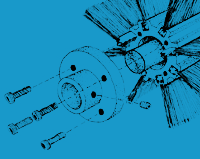 Save time and money by replacing just the worn brushes! SEALEZE® rotary strip brushes are easy to assemble and disassemble, making changing brushes quick and easy.
Custom rotary strip brushes are available in two sizes: D Series and G Series. Extrusions are made from aluminum alloy. Machined aluminum alloy mounting hubs are available. Hubs for D Series rotary brushes enable mounting on shafts with 0.750 inch diameter; hubs for G Series rotary brushes enable mounting on shafts with 1.000 inch diameter. Brush channel materials include galvanized steel and T-304, T-304L, T-316 and T-316L stainless steels. A wide variety of filament materials is available (including crimped and level) with a wide selection of filament diameters. Custom mandrels and hubs can be designed and manufactured, upon request.
SEALEZE® rotary strip brushes are designed for low-RPM applications, typically less than 100 RPM.
If your application requires rotary strip brushes with special requirements, contact a SEALEZE® Sales Representative for more information.
To email us your application information, click here. Or, call 1-800-787-7325.
Rotary Strip Brush Assemblies
Extrusion Dimensions
Minimum Assembly with Brush
OD
ID
OD
Series D
2.220
1.125
3.18
Series G
2.743
1.375
4.25
Channel Section Size
Section
Size
(X)
Width
(inches)
(Y)
Height
(inches)
D
0.240
0.256
G
0.350
0.370

Download a worksheet for Series D Rotary Brushes, worksheet for Series G Rotary Brushes or, go to the online Rotary Strip Brush worksheet.