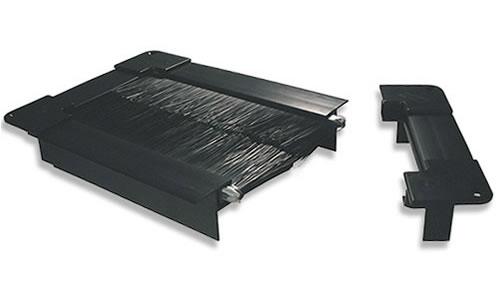 Custom-Sized In-Floor Grommet
Designed for installation in new or existing data center raised floors with or without power or communications cables installed.
The CB11 in-floor grommet is designed for installation in new or existing data center raised floor tiles, with or without power or communication cables installed. The unique design of the CB11 grommets enables field modification. The side rails and brush can be cut using ordinary hand tools. For installations with cables in place, one end of the CB11 can be removed and the seal placed around the existing cables. The CB11 series can be installed in cutouts ranging from 5 by 5 in. to 10 by 24 in.
For smaller cutout sizes, use circular seals CB33-04 or CB33-06. For larger holes, contact us for other sealing solutions.
CB11H is designed to fit cutouts against a wall or other obstruction and can fit around already installed cables
Construction: 4 corner pieces and 4 black ABS plastic side rails with edge protectors; 2 SEALEZE® nylon brushes with XtraSealTM technology.
Hole Size: 5 x 5 in. to 10 x 24 in.
Installation: No. 8 self-drilling screws (supplied) or double-sided tape.
Tile Cutout Specifications: Cutouts must be no less than the hole size specified for the seal model no. and no more than .125 in. larger in any dimension.
Documentation
---
To schedule an appointment to learn more about our brush, please fill out the form below.
---