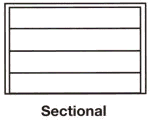 Click on the type of overhead door you need to seal: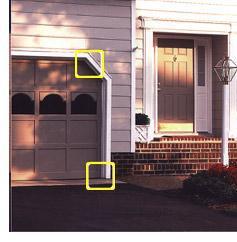 SEALEZE® manufactures brush weatherseals for overhead doors of all sizes from residential garage doors to barn doors and air craft hangar doors. Our ProSeal and Therm-L-Brush strip brush weatherseals can reduce air infiltration around overhead doors by as much as 40% as compared to rubber seals in the same application. Brush weatherseals won't crack or deform like other sealing products so it requires less maintenance and rarely needs to be replaced. Independent tests have shown that our Therm-L-Seal brush weatherseal can withstand up to 2 million cycles of operation without degradation.
Test Report

Cycles Test Report
Our strip brush forms a solid wall of thousands of filaments for a complete weather-tight seal. The brush conforms to irregular surfaces to provide the most effective seal possible without impairing the operation of the door. Even at 70° F below zero, where vinyl and other materials can freeze and become brittle, SEALEZE® Therm-L-Brush brush weatherseal remains flexible and effective.
SEALEZE® brush weatherseal can be easily installed around commercial sectional doors and industrial rolling steel, sectional and sliding overhead doors to minimize air and dirt infiltration and to keep out rain, snow, wind, sand, debris, light, noise and pests like insects, rodents, birds and bats.
SEALEZE® brush weatherseal products with Therm-L-Brush brush weatherseals are UL listed for brush up to 4".
For sealing the bottoms of commercial overhead doors, we also offer thresholds and adjustable door bottom seals for commercial sectional doors.
We also offer strip brush for pest control.
Download the overhead door worksheet available as a PDF. Once completed, you can send it to us and we'll send you a quote.
Toll free fax: 800-448-2908
Email: sealezeorders@sealeze.com
We can be reached by phone during regular business hours- weekdays from 8:00 am to 5:00 pm Eastern Time.
Toll free: 800-446-7325