Brush-Based Solutions for Integrated Pest Management
Simple, Cost Effective Pest Exclusion
SEALEZE® brush for pest control provides an excellent barrier against pests of all types from insects and rodents to birds, bats and reptiles. Make SEALEZE® straight strip brush a key component of your Integrated Pest Management (IPM) program.
IPM is a safer, healthier alternative to straight pesticide use. By employing common sense measures and instituting safer alternatives, pesticide use can be significantly reduced in schools, hospitals, long term care facilities and anywhere that the population is more sensitive to chemical pesticides.
Ask about our pest control brush products for your IPM program.
By combining various approaches from thorough house cleaning practices and frequent trash pick-up to monitoring and identifying pests, pesticide use can be reduced. SEALEZE® strip brush for pest control and weatherseal is a simple cost-effective addition to any IPM program. From entry doors of all types to overhead and hangar doors, strip brush is a superior seal. Brush creates a barrier to the sounds and smells that draw pests, it prevents pest entry and it lasts longer than typical vinyl seals. It is flexible and conforms to irregular surfaces. SEALEZE® strip brush is proven to last for 2 million uses without any noticeable change in quality. The brush will probably outlast the door!
Blocks light and smells that draw pests
Deters pest entry
Seals cracks and crevices
Conforms to irregular surfaces
Our nylon brush is completely safe. There is no off-gassing, the brush lasts through millions of operations, all materials are completely recyclable. Properly installed, it requires no maintenance, just an occasional quick visual inspection.
SEALEZE® straight strip brushes are available in a variety of sizes and filament materials that can be custom formed to meet your needs. Holders, available in aluminum and stainless steel, can be custom formed and punched to your specifications. The aluminum holders are available in three different colors. Powder coating and painting options are also options.
Straight brush for pest control
Ez-Flex flexible strip brushes for contoured doors
Punched holders
A variety of filaments and trim lengths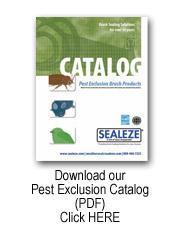 Pest Control Brush Based Solutions:
Commercial: Dock leveler seals, rolling and overhead door seals, aircraft hangar door seals, door sweeps and custom brush seals for gaps up to 4 inches.
Institutional and Residential: Overhead door seals, door sweeps, door jamb seals, and astragal seals for wood and metal doors. For a complete pest seal, SEALEZE® offers AstraSweep corner seal for sealing the hole between the door sweep and astragal seal on double doors.
Pest Management Product Distributors: Ask about our pest control brush products for your IPM program.
How much brush do you need? What angle holders do you need?
We offer worksheets that guide you in addressing these and other questions. Complete the appropriate worksheet and email or fax it to us and we will provide you with a quote. Visit the downloads center for a complete list of worksheets.
Toll free fax: 800-448-2908
Email: sealezeorders@sealeze.com
We can be reached by phone during regular business hours- weekdays from 8:00 am to 5:00 pm Eastern Time.
Toll free: 800-446-7325