Our Therm-L-Brush weatherseal is made of durable, high-quality nylon filament is resistant to common chemicals, has excellent bend recovery and abrasion resistance and remains flexible and effective even down to 70°F below zero! Rugged aluminum holders are available in clear or dark brown finish and holes can be drilled as required. Size D brush is available with filament lengths from 1" to 3" for sealing gaps up to 1" wide. Size G brush is available with filament lengths from 1.75" to 7" and can effectively seal gaps up to 4". Therm-L-Brush weatherseal with filament 4" long or less is UL labeled for use on 3-hour fire doors.
Them-L-Brush is available from our stock in 8' and 10' lengths with a variety of holders. We can also ship brush weatherseals cut to your specifications.
How much brush do you need? What angle holders do you need?
We offer worksheets that guide you in addressing these and other questions. Complete the appropriate worksheet and email or fax it to us and we will provide you with a quote. Visit the downloads center for a complete list of worksheets.
Download the Overhead Door worksheet available as a PDF. Once completed, you can send it to us and we'll send you a quote.
Toll free fax: 800-448-2908
Or scan it and email it to us.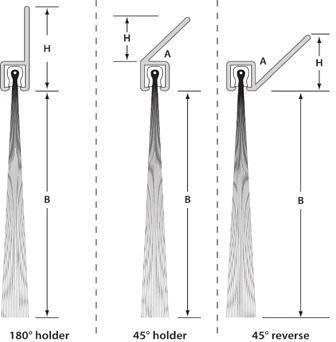 Therm-L-Brush - 100% Nylon Brush Weatherseal
Product Code
Holder Color
(B) Exposed Filament Length
(H) Holder Length
(A) Angle Holder
Stock Length (in feet)
D480CLA09BL
clear (silver)
0.94"
1.102"
180°
3, 7, 8, 9, 10 ,12
D480DUR09BL
dark brown
0.94"
1.102"
180°
8, 10, 12
D480CLA12BL
clear (silver)
1.19"
1.102"
180°
3, 7, 8, 9, 10 ,12
D480DUR12BL
dark brown
1.19"
1.102"
180°
8, 10, 12
D480CLA16BL
clear (silver)
1.61"
1.102"
180°
3, 7, 8, 9, 10 ,12
D480DUR16BL
dark brown
1.61"
1.102"
180°
8, 10, 12
D480CLA20BL
clear (silver)
2.00"
1.102"
180°
3, 7, 8, 9, 10 ,12
D480DUR20BL
dark brown
2.00"
1.102"
180°
8, 10, 12
D480CLA30BL
clear (silver)
3.00"
1.102"
180°
3, 7, 8, 9, 10 ,12
D480DUR30BL
dark brown
3.00"
1.102"
180°
8, 10, 12
D482CLA09BL
clear (silver)
0.94"
1.811"
180°
10
D482CLA12BL
clear (silver)
1.19"
1.811"
180°
10
D482CLA16BL
clear (silver)
1.61"
1.811"
180°
10
D482CLA20BL
clear (silver)
2.00"
1.811"
180°
10
D482CLA30BL
clear (silver)
3.00"
1.811"
180°
10
D483CLA09BL
clear (silver)
0.94"
3.391"
180°
8, 10
D483CLA12BL
clear (silver)
1.19"
3.391"
180°
8, 10
D483CLA16BL
clear (silver)
1.61"
3.391"
180°
8, 10
D483CLA20BL
clear (silver)
2.00"
3.391"
180°
8, 10
D483CLA30BL
clear (silver)
3.00"
3.391"
180°
8, 10
D445CLA09BL
clear (silver)
0.94"
0.844"
45°
7, 8, 10, 12
D445DUR09BL
dark brown
0.94"
0.844"
45°
8, 10
D445CLA12BL
clear (silver)
1.19"
0.844"
45°
7, 8, 10, 12
D445DUR12BL
dark brown
1.19"
0.844"
45°
8, 10
D445CLA16BL
clear (silver)
1.61"
0.844"
45°
7, 8, 10, 12
D445DUR16BL
dark brown
1.61"
0.844"
45°
8, 10
D445CLA20BL
clear (silver)
2.00"
0.844"
45°
7, 8, 10, 12
D445DUR20BL
dark brown
2.00"
0.844"
45°
8, 10
D445CLA30BL
clear (silver)
3.00"
0.844"
45°
7, 8, 10, 12
D445DUR30BL
dark brown
3.00"
0.844"
45°
8, 10
D45XCLA09BL
clear (silver)
0.94"
1.890"
45°
10, 12
D45XCLA12BL
clear (silver)
1.19"
1.890"
45°
10, 12
D45XCLA16BL
clear (silver)
1.61"
1.890"
45°
10, 12
D45XCLA20BL
clear (silver)
2.00"
1.890"
45°
10, 12
D45XCLA30BL
clear (silver)
3.00"
1.890"
45°
10, 12
D45RCLA09BL
clear (silver)
0.94"
1.000"
45° REV
10
D45RCLA12BL
clear (silver)
1.19"
1.000"
45° REV
10
D45RCLA16BL
clear (silver)
1.61"
1.000"
45° REV
10
D45RCLA20BL
clear (silver)
2.00"
1.000"
45° REV
10
D45RCLA30BL
clear (silver)
3.00"
1.000"
45° REV
10
F580CLA15BL
clear (silver)
1.50"
1.000"
180°
10
F580CLA20BL
clear (silver)
2.00"
1.000"
180°
10
F580CLA25BL
clear (silver)
2.50"
1.000"
180°
10
F580CLA30BL
clear (silver)
3.00"
1.000"
180°
10
F580CLA40BL
clear (silver)
4.00"
1.000"
180°
10
F580CLA50BL
clear (silver)
5.00"
1.000"
180°
10
F582CLA15BL
clear (silver)
1.50"
1.500"
180°
10
F582CLA20BL
clear (silver)
2.00"
1.500"
180°
10
F582CLA25BL
clear (silver)
2.50"
1.500"
180°
10
F582CLA30BL
clear (silver)
3.00"
1.500"
180°
10
F582CLA40BL
clear (silver)
4.00"
1.500"
180°
10
F582CLA50BL
clear (silver)
5.00"
1.500"
180°
10
F545CLA15BL
clear (silver)
1.50"
1.500"
45°
10
F545CLA20BL
clear (silver)
2.00"
1.500"
45°
10
F545CLA25BL
clear (silver)
2.50"
1.500"
45°
10
F545CLA30BL
clear (silver)
3.00"
1.500"
45°
10
F545CLA40BL
clear (silver)
4.00"
1.500"
45°
10
F545CLA50BL
clear (silver)
5.00"
1.500"
45°
10
G680CLA18BL
clear (silver)
1.75"
1.312"
180°
8, 10
G680CLA25BL
clear (silver)
2.53"
1.312"
180°
8, 10
G680CLA30BL
clear (silver)
3.00"
1.312"
180°
8, 10
G680CLA40BL
clear (silver)
4.00"
1.312"
180°
8, 10
G680CLA50BL
clear (silver)
5.00"
1.312"
180°
8, 10
G680CLA60BL
clear (silver)
6.00"
1.312"
180°
8, 10
G680CLA70BL
clear (silver)
7.00"
1.312"
180°
8, 10
G682CLA18BL
clear (silver)
1.75"
2.000"
180°
8, 10
G682CLA25BL
clear (silver)
2.53"
2.000"
180°
8, 10
G682CLA30BL
clear (silver)
3.00"
2.000"
180°
8, 10
G682CLA40BL
clear (silver)
4.00"
2.000"
180°
8, 10
G682CLA50BL
clear (silver)
5.00"
2.000"
180°
8, 10
G682CLA60BL
clear (silver)
6.00"
2.000"
180°
8, 10
G682CLA70BL
clear (silver)
7.00"
2.000"
180°
8, 10
G685CLA18BL
clear (silver)
1.75"
5.470"
180°
8, 10
G685CLA25BL
clear (silver)
2.53"
5.470"
180°
8, 10
G685CLA30BL
clear (silver)
3.00"
5.470"
180°
8, 10
G685CLA40BL
clear (silver)
4.00"
5.470"
180°
8, 10
G685CLA50BL
clear (silver)
5.00"
5.470"
180°
8, 10
G685CLA60BL
clear (silver)
6.00"
5.470"
180°
8, 10
G685CLA70BL
clear (silver)
7.00"
5.470"
180°
8, 10
GG680CLA18BL
clear (silver)
1.75"
1.778"
180°
10
GG680CLA25BL
clear (silver)
2.53"
1.778"
180°
10
GG680CLA30BL
clear (silver)
3.00"
1.778"
180°
10
GG680CLA40BL
clear (silver)
4.00"
1.778"
180°
10
GG680CLA50BL
clear (silver)
5.00"
1.778"
180°
10
GG680CLA60BL
clear (silver)
6.00"
1.778"
180°
10
GG680CLA70BL
clear (silver)
7.00"
1.778"
180°
10
G645CLA18BL
clear (silver)
1.75"
1.000"
45°
10
G645CLA25BL
clear (silver)
2.53"
1.000"
45°
10
G645CLA30BL
clear (silver)
3.00"
1.000"
45°
10
G645CLA40BL
clear (silver)
4.00"
1.000"
45°
10
G645CLA50BL
clear (silver)
5.00"
1.000"
45°
10
G645CLA60BL
clear (silver)
6.00"
1.000"
45°
10
G645CLA70BL
clear (silver)
7.00"
1.000"
45°
10
K1082CLA30BL
clear (silver)
3.00"
2.690"
180°
10
K1082CLA40BL
clear (silver)
4.00"
2.690"
180°
10
K1082CLA50BL
clear (silver)
5.00"
2.690"
180°
10
K1082CLA60BL
clear (silver)
6.00"
2.690"
180°
10
K1082CLA70BL
clear (silver)
7.00"
2.690"
180°
10
K1082CLA110BL
clear (silver)
10.00"
2.690"
180°
10
K1082CLA120BL
clear (silver)
12.00"
2.690"
180°
10