Astragal seals are for sealing the gap where double doors meet. SEALEZE® astragal kits are available for popular sizes of wood and metal double doors. For a more complete seal around double doors, SEALEZE® AstraSweep corner seals seal the space between the astragal seal and the door sweep.
How much brush do you need? What angle holders do you need?

We offer worksheets that guide you in addressing these and other questions. Complete the appropriate worksheet and email or fax it to us and we will provide you with a quote. Visit the
downloads center
for a complete list of worksheets.
AstraSweep corner brush seals installed with SEALEZE® door sweeps and astragal seals:
Provide a more complete seal around double doors
Save energy and keep out unwanted pests
Enhance the appearance of entry way doors with a more "finished" look
Hide unsightly vertical locking bars
Need less maintenance - providing durability unmatched by vinyl seals
SEALEZE® corner seals and door sweep brush seals are ideal for sealing the irregular surfaces of thresholds at door bottoms, conforming to the surface without impairing door movement. All SEALEZE® brush seals are made with durable SEALEZE® Therm-L-Brush nylon seals for long-lasting life. Rugged anodized aluminum holders are available in clear (matte silver) and dark brown (matte) - a perfect color match and complement to our door sweep and astragal seal holders. Holders are pre-slotted for easy installation.
AstraSweep Kits include two corner seals, two door sweeps and two astragal seals - all the materials necessary to seal the inside and bottoms of a double door.
For special door sizes or configurations, we will custom-cut strip brush weatherseal to your specification. Or, SEALEZE® brush weatherseal products can be ordered as bulk packs in stock lengths so you can cut to fit as needed.
Download the astragal seal worksheet available as a PDF.
Once completed, you can send it to us and we'll send you a quote.
Toll free fax: 800-448-2908
Or email it to us.
We can be reached by phone during regular business hours- weekdays from 8:00 am to 5:00 pm Eastern Time.
Toll free: 800-446-7325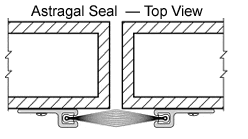 Astragal Seal Kits for Wood and Metal Doors
Product Code
Holder Color
Filament Length
Door Height
Seals Gaps Up To
A180CLA04BL14
clear (silver)
0.41"
7'
5/8"
A180DUR04BL14
dark brown
0.41"
7'
5/8"
C380CLA06BL14
clear (silver)
0.59"
7'
1"
C380DUR06BL14
dark brown
0.59"
7'
1"
A180CLA04BL16
clear (silver)
0.41"
8'
5/8"
A180DUR04BL16
dark brown
0.41"
8'
5/8"
C380CLA06BL16
clear (silver)
0.59"
8'
1"
C380DUR06BL16
dark brown
0.59"
8'
1"
---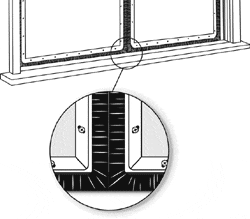 AstraSweep Kits-Wood and Metal Doors Seal Gaps up to 1 inch!
Double Door Size
Product Code
Holder Color
6' wide by 7' high
C380CLA06BL67
clear (silver)
C380DUR06BL67
dark brown
6' wide by 8' high
C380CLA06BL68
clear (silver)
C380DUR06BL68
dark brown
7' wide by 7' high
C380CLA06BL77
clear (silver)
C380DUR06BL77
dark brown
7' wide by 8' high
C380CLA06BL78
clear (silver)
C380DUR06BL78
dark brown
8'wide by 7' high
C380CLA06BL87
clear (silver)
C380DUR06BL87
dark brown
8' wide by 8' high
C380CLA06BL88
clear (silver)
C380DUR06BL88
dark Brown
Kits include: two (2) AstraSweep corner seals, two (2) doors sweeps (SEALEZE® product code prefix C380) and two astragal seals (SEALEZE® product code prefix C380)