Pest Control

Eliminate light, odors and sound that attract unwanted pests!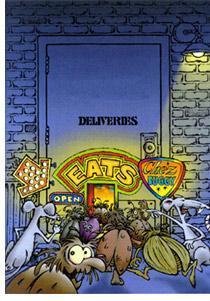 Restaurants. Food Processing Plants and Warehouses. Hotels and Motels. Schools and Day Care Centers. These are just a few of the facilities requiring reduced levels of chemical pest control or eliminating chemical pest control all together.
Sealeze Pest Control Brush products provide an effective way to reduce or eliminate chemicals in pest management. And installation is EASY!

Sealeze high-density Pest Control Brush is made from thousands of dense nylon bristles that form a tight seal around all kinds of entry and overhead doors to eliminate light, sound and odors that attract pests. Our brush is so flexible, it conforms to any surface, even an irregular one, to form an effective seal. Gaps up to four inches wide can be sealed with no special hardware or special tools.
And, Sealeze Pest Control Brush is tough. Properly installed, our brush products last for years in many applications. Even in temperatures ranging from –30°F to +150°F, where other seals would likely break down and fail, Sealeze high-density Pest Control Brush remains flexible and effective.
Sealeze Pest Control Products include:
Industrial: Dock leveler seals, rolling and overhead door seals, aircraft hanger door seals, door sweeps and custom brush seals for gaps up to 4 inches.
Food and Pharmaceutical: Stainless steel holders and FDA approved brush materials in standard and custom products.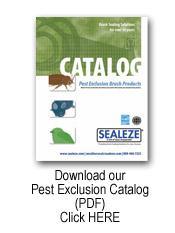 Ez-Flex™ Flexible Strip Brush for FDA controlled environments: Sealeze is offering a flexible alternative to typical strip brush for use in environments governed by FDA rules and regulations. The resins used to make the backing and filaments of Ez-Flex strip brush are approved by the FDA for use in food and pharmaceutical applications. Click here for more information about flexible brush.

Institutional and Residential: Overhead door seals, door sweeps, door jamb seals, and astragal seals for wood and metal doors. And, for a complete pest seal, Sealeze offers Astrasweep corner seal for sealing the hole between the door sweep and astragal seal on double metal or wood doors.
Pest Management Product Distributors: Ask about our Pest Control Brush Products for your IPM solution. Call 1-800-446-7325, today!
For more information about Sealeze Pest Control Products:
Call:1-800-446-7325 or 1-804-743-1218
Click here to E-mail