Versatility of Brush

Brush provides effective solutions to many problems that other materials simply cannot. Closing gaps, shielding, guiding, containment, positioning, wiping and static dissipation are just some of the applications where the unique properties of brush make it the best solution.
The breadth of applications in which brush can be used, including, but certainly not limited to the following, demonstrates brush's versatility: eliminating air flow to conserve energy – even in extreme high temperature applications; containment or shielding against flying debris; light and sound containment; positioning and guiding of products during manufacture or packaging; sweeping/cleaning and polishing; skirting; and more.


In many cases, brush is the best solution. For example, when closing gaps between two moving surfaces, conventional solid seals often break down quickly from friction and abrasion and can exert excessive drag and wear on parts. Sealeze brushes are pliable and highly effective at closing gaps between uneven surfaces to keep out dust, dirt and other contaminants while allowing a full range of motion for moving parts. And, the durability of brush in applications where moving parts are involved is unsurpassed. Independent laboratory testing has shown Sealeze nylon stock brush to stand up to 2,000,000 cycles (opening and closing) without degradation. Click here for a summary of this report. (pdf)
Sealeze strip brushes are manufactured to some of the highest standards in the industry. Consisting of just three parts (core wire, metal backing or channel and filament), strip brushes can be customized in almost an infinite number of combinations to provide the properties that meet the exact requirements of an application.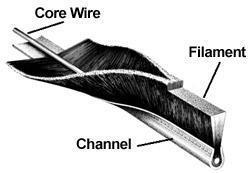 Channel section size, type of filament, filament diameter, filament density and length of trim determine most brush properties. Sealeze has galvanized and stainless steel channels in over 10 sizes ranging from less than 0.095 inch up to 0.500 inch wide. A wide choice of synthetic, metal and natural filaments provide varying degrees of stiffness, moisture resistance, softness, electrical conductivity and heat resistance and can be trimmed to custom length. Brushes can be made with materials for FDA-regulated environments, such as for food processing, and formed into coils, spirals, ovals, rectangles, and more. Sealeze's in-house machine and fabrication facilities can form brush into almost any shape needed for your application.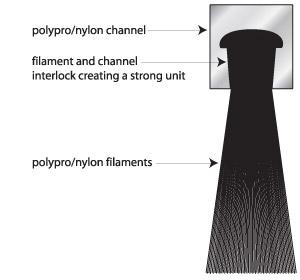 Sealeze Ez-Flex™ strip brush utilizes a non-metal construction to provide a flexible strip brush that increases design flexibility. Ez-Flex brush is constructed with the same high quality nylon or polypropylene filaments used in our conventional metal-backed brush and incorporated into a flexible polypropylene or nylon channel. Available with a wide range of filament diameters and filament lengths and constructed with bases of various durometers, these brushes can be as stiff or as flexible as your design requires. And because Ez-Flex strip brush is manufactured in a continuous process, it can be made in virtually unlimited lengths to span long distances or can be stored in rolls and "cut-to-size" with simple hand tools at your site.
Sealeze Sales Representatives have extensive experience helping our customers identify the right brush, with the exact properties, to meet their application needs. Contact a Sealeze Sales Representative for assistance with your application.
To e-mail us your application information, click
here
.
Or, call 1-800-787-7325 or 1-804-743-0982