Static Dissipation Brushes


Sealeze product line of brushes for static control includes:
Straight strip and staple set brushes with static-dissipative and anti-static filaments
Soft-Fiber static-dissipative brush with acrylic fiber
Metal filament brush with conductive filaments
Static Seal
Sealeze Static Seal brushes are designed for applications requiring electrical conductivity, static dissipation, or EMI shielding properties.
Static Seal Static-Dissipative Nylon Filament Brushes are made with carbon particles chemically bonded to nylon filaments, to provide a brush with excellent strength and flexibility that will not crack or flake in working temperatures up to 230 degrees F. (These brushes are not recommended for use with un-encapsulated electronic microcircuits.) Static Seal Static-Dissipative brushes are available in mixtures of 20% or 100% conductive filament to meet your application needs. Sealeze Static Seal conductive filaments have an electrical resistance of 20,000 ohms per inch (depending upon filament diameter) for excellent electrical conductivity and static-dissipative characteristics.
Data Sheets
Stock Strip Brush SFB115BL100CF with 100% conductive nylon filament (PDF)
Stock Strip Brush SFB115BL20CF with mix of 20% conductive nylon filament (PDF)

Static Seal Anti-Static Nylon Filament Brushes are made with nylon filaments that are permanently infused throughout with a conductive agent that does not affect the mechanical or physical properties of the filament. Because it is infused within the filament, flaking or cracking cannot occur. Surface resistivity is 1 X 109 ohms. Properly grounded, these brushes can be used in applications where static generation is not desired.
Data Sheet
Anti-static Stock Strip Brush SFB110AS (PDF)
Soft-Fiber
Sealeze Soft-Fiber, static-dissipative brushes are designed for applications requiring the gentlest touch. Made from Thunderon® fiber, these brushes can be installed in any Sealeze size G aluminum or mild steel brush holders. Thunderon is an acrylic fiber that has been chemically bonded with a layer of copper sulfide to produce a resistance of 3 to 5 times 10-4 ohms per centimeter. This outer layer becomes a part of the host fiber and will not flake or crack. These brushes are manufactured with tufts spaced 0.25 or 0.50 inches apart with exposed fiber length of 1.50 inches. We can trim to shorter fiber lengths to meet your needs.
Data Sheets
Static Dissipation Stock Strip Brush SSG515AT1D (PDF)
Static Dissipation Stock Strip Brush SSG515AT2D (PDF)

Sealeze Metal Filament brushes, when properly grounded, provide a conductive path between the charged surface and ground. These brushes can be used to dissipate static charges in extreme high-temperature applications.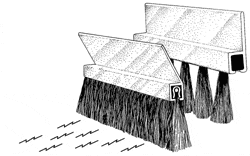 Metal Filament
Metal Filament brushes are used to dissipate static charges in applications where brush properties, such as high-abrasion or resistance to elevated temperatures, are required.
Click here for Sealeze Metal Filament Brushes
Staple Set Brush
Staple set brushes with conductive filament and subtrates can be
manufactured to meet your specifications.
For maximum effectiveness, static dissipation brushes must be properly installed and grounded. Ask your Sealeze Sales Representative for installation and grounding information.

To e-mail us your application information, click here.
Or, call 1-800-787-7325 or 1-804-743-0982

Product No.
X
Y
OAT
Filiment
Diameter
Filament Type
Static Seal-Static-Dissipative
SFB115BL20CF
0.150"
0.152"
1.72"
0.010"
20% conductive / 80% nylon
SFB115BL100CF
0.150"
0.152"
1.72"
0.010"
100% conductive fiber
SFC130BL20CF
0.180"
0.199"
3.25"
0.010"
20% conductive / 80% nylon
SFC130BL100CF
0.180"
0.199"
3.25"
0.010"
100% conductive fiber
SFD130BL20CF
0.240"
0.256"
3.30"
0.010"
20% conductive / 80% nylon
SFD130BL100CF
0.240"
0.256"
3.30"
0.010"
100% conductive fiber
Static Seal-Anti-Static
SFB110AS
0.150"
0.152"
1.22"
0.010"
Inherently conductive
Soft Fiber Thunderon - Static-Dissipative
SSG515AT1D
0.35"
0.40"
1.85"
0.0015"
0.5 tufts spacing
SSG515AT2D
0.35"
0.40"
1.85"
0.0015"
0.25 tufts spacing
Metal Filament - Static-Dissipative
Click Here for Sealeze Metal Filament Brushes