Staple Set Brush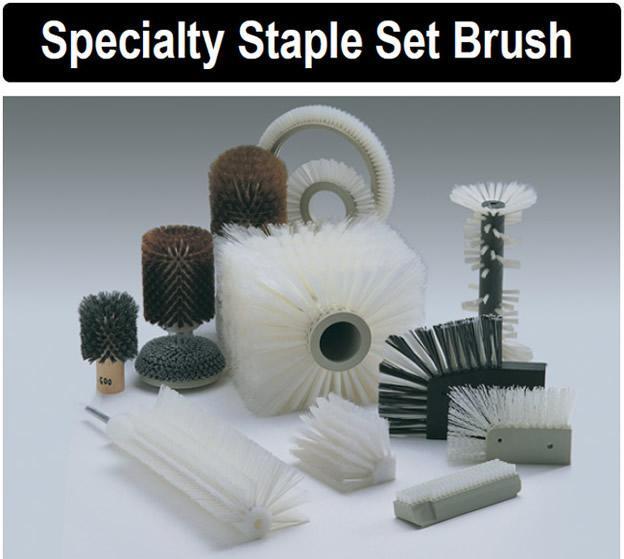 Sealeze specialty staple set brush is available in any configuration: cylinder (radial), lag (block), strip, disc or head (goblet)
Sealeze Staple Set Brushes are custom manufactured for each specific application need, with different shapes, lengths, and diameters. All tufted brush designs are available in a variety of filament materials that provide the best performance and value for your particular application. Sealeze's sales representatives and engineering staff specialize in working closely with you to design optimized solutions for use in your application, ensuring successful results and satisfaction.
From conveying and positioning to cleaning and scrubbing, staple set brushes are used in a wide range of applications. Here are just a few examples:
Bakeries– safely guide food products, clean conveyor belts, spread materials
Beverage / Bottling Lines– guide and convey products, protect delicate surfaces, apply labels
Conveyor Lines– clean and remove dust, directionally guide materials
Food Processing Lines– move product without damaging or marring food or package surfaces, sort, clean and
polish
Fruit / Vegetable Cleaning and Polishing– move delicate fruits and vegetables for guiding, washing, sorting,
and waxing
Furniture Manufacturing– apply stain, dedusting, denibbing, cleaning and polishing, convey furniture parts
and protect finished surfaces
Packaging / Material Handling– clean and protect product and machinery surfaces, apply labels, remove dust,
dissipate static, convey and guide materials
Paper Processing and Manufacturing– clean conveyor belts, guide and position products
Water / Wastewater Processing– clean perforated screens, agitate and filter effluent, seal rotating drums
Modular Cylinder Brush System

The Modular Cylinder System is specially designed for quick and easy changeover using individual sections. These tufted brushes provide an extended life cycle even under extreme conditions. The brush bodies are resistant to acid and meet food processing industry guidelines. All brushes are balanced and light-weight so there is minimal energy demand for the system. Sealeze's modular design features easy mounting of the brush bodies speeding up the changeover process. As always, a wide range of filament materials are available so that the brush performance is maximized for each application.
By utilizing the modular cylinder brush design, individual segments can be replaced as needed. Seams are prevented through the specially designed connections. In most cases, the brush bodies can be manufactured to fit your shaft specifications, or Sealeze can provide the shaft.
Download the Modular Cylinder Staple Set worksheet as a PDF
Visit the Downloads page to access all of Sealeze's worksheets
Block (Lag) Staple Set worksheet
Cylinder Staple Set worksheet
Head (Goblet) Staple Set Worksheet
Disc Staple Set worksheet
Modular Cylinder worksheet
Sealeze also offers quality strip brush in custom configurations. Strip brushes are available in a variety of sizes and filament materials that can be custom formed to meet your needs. Holders, available in aluminum and stainless steel, can be custom formed and punched to your specifications. Powder coating and painting options are available to meet your color needs.
Nylon filament brushes for sealing, shielding and guiding
Ez-Flex® flexible strip brushes for contoured doors
Custom punched holders
A variety of filaments and trim lengths to suit your application needs