Brushes with Plant Fiber and Animal Hair Filaments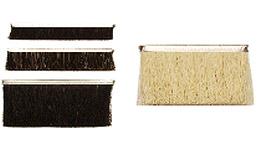 Sealeze manufactures brushes using tampico, pig hair and horsehair filament for applications where synthetic filaments are not suited.

Tampico is a plant fiber obtained from the Agave plant that grows in Mexico.Of a medium-soft texture, resistant to heat and chemicals, and highly water absorbent, tampico is most often used for light scrubbing, washing and light-abrasive applications.

Horsehair is relatively soft to moderately stiff, depending on bristle length and grade. Horsehair is used dry for polishing or scratch-free cleaning on delicate surfaces.
Pig hair, often used for cleaning or spreading viscous fluids, is a stiff, resilient, non-conductive fiber.
Sealeze manufactures a wide variety of brush sizes with natural filaments. A Sealeze Sales Representative can help you determine the right brush for your application. Contact a Sealeze Sales Representative for more information.

To e-mail us your application information, click
here
.
Or, call 1-800-787-7325 or 1-804-743-0982