Mass Transit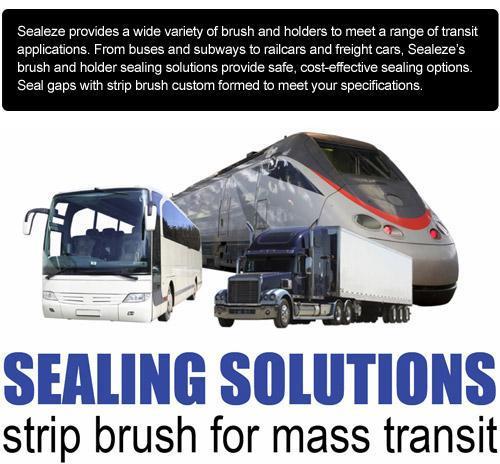 Economical Improvements
Sealeze brush provides an excellent seal against weather, air and debris infiltration and reduces noise and vibration. It can also be installed as a sight seal, hiding mechanisms and preventing accidental injury. From hinge seals to mechanism track seals, our brush will meet your sealing and guiding needs.
Eliminate drafts and leaks around doors
Silence cabin rattling and vibration
Seal wheelchair lifts
Reduce snow and mud build-up in wheel wells
Provide sight seals
If your company or transit authority is "going green", our brush is great choice. It's made from completely recyclable materials, and reduces heat and cooling energy requirements.
Robust Performance
As door sweeps and door guides, our brushes are long-lasting and environmentally sound. Sealeze brush lasts longer and maintains a better seal than rubber seals under all types of weather conditions and temperature extremes. Properly installed, Sealeze weatherseal brush requires little or no maintenance.
Sealeze straight strip brushes are available in a variety of sizes and filament materials that can be custom formed to meet your needs. Holders, available in aluminum and stainless steel, can be custom formed and punched to your specifications. Powder coating and painting options are available to meet your color needs.
Our in-house design and engineering team is ready to help you design a solution that resolves your issues at the right price. Give us a call at 800-787-7325, or email
industrial@sealeze.com
See our worksheet for straight strip brush, it's available as a
PDF
to download, or can be filled out
on-line
and submitted. Call us at 800.787.7325 to speak with a knowledgeable Sales Representative or email us at
industrial@sealeze.com
.