Cable Management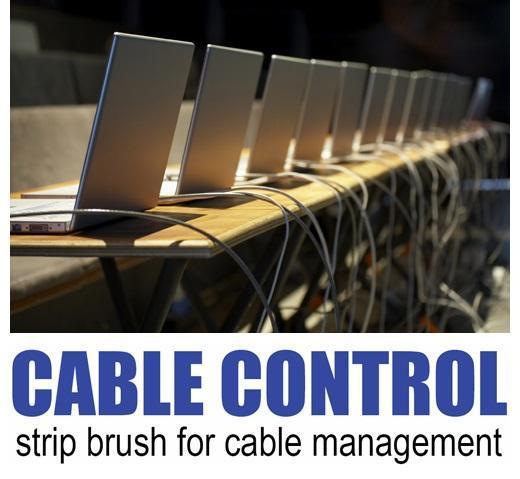 Brush cable management system
Sealeze brush provides an effective cable management system that organizes and controls unwieldy power and communication cables. Sealeze strip brush and holders are available in a wide range of sizes to meet cable management needs ranging from desks with PCs to mainframe computer systems.
Our strip brush is also effective for controlling cables running out of hub boxes for in-store displays of televisions and electronics.
Ez-Flex™ strip brush provides OEMs with a flexible, cost-effective system for mounting in desks and technical furniture. Ez-Flex strip brush is flexible and is shipped rolled in boxes for easy storage. Available in 100 ft. rolls,you can simply cut what you need when you need it!
Trading desks
Television display racks
In-Store electronics displays
Ez-Flex™ flexible strip brushes for contoured doors
Custom punched holders
A variety of filaments and trim lengths
Available with XtraSeal™ for added protection
Our in-house design and engineering team is ready to help you design a solution that resolves your issues at the right price. Give us a call at 800-787-7325, or email industrial@sealeze.com

See our worksheet for straight strip brush, it's available as a PDF to download, or can be filled out on-line and submitted. Call us at 800.787.7325 to speak with a knowledgeable Sales Representative or email us at industrial@sealeze.com.